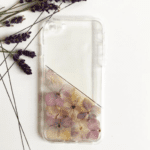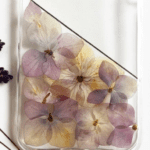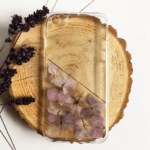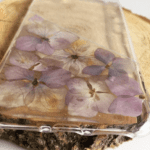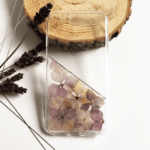 Glitter & Hydrangea | Real flowers phone case | Fern&Felt
€20,00
Glitter and Hydrangea is a minimalist, yet at the same time chic phone case with real flowers. Half of the case is filled with dried hydrangea petals, accompanied by silver narrow tape, arranged in a neat composition. The whole pattern is kept in discreet, subtle and a bit colder colour tones, which might make you think about the winter landscape and the time that you have spent with such view in the background. However, the usage of dried flowers makes it possible to warm those memories up. Additionally, placing the silver narrow tape in the middle of the compositions, adds some shine and unusual overtone to the phone cover. Hence, if you like such neat patterns, pink colours and shining glitter, yet at the same time you wish to get yourself a minimalistic case which will embellish your phone in a subtle way, choose Hydrangea and Glitter. 
The approximate preparation time is 2-3 weeks.

The phone covers that we use are made out of transparent silicon of the highest quality, which ensures both elasticity and resistance to abrasion, dirt or shape loss. The case will adjust its shape to your phone model so that it fits perfectly, in order to protect its back, corner and sides. The layer of resin which protects the plants and the other elements will slightly stiffen the back of the cover, which creates additional protection for your phone and the case itself.

The dried plants located at the back of the phone case can please the eye for many months of usage, due to the fact that we preserve them with resin. We care about the wellbeing of our customers and therefore we use the highest-quality, nontoxic and smell free resin. In order for the product to serve you for as long as possible, please try to avoid its long-lasting exposure to the sun and try not to take it off and then put it back too often. This will help to keep its primary form.

Please bear in mind that due to the use of real flowers, some imperfections such as delicate bumps can occur on the surface of the phone cover. This is a result of the thickness of the plants which have been used to decorate the case. However, that doesn't affect the look or the functionality of the case. The product presented on the photo is the example of what the composition may look like. Due to the uniqueness of genuine flowers, please be aware that the plants differ and their arrangement could be slightly different than on the presented model.